HOSTING
TWT's Virtual Web Hosting Solutions [VHS] provides a virtual Linux™ infrastructure in a secure, fully managed server environment with administration tools necessary to construct and manage a Professional Enterprise Class presence on the Internet.
You have the flexibility to make changes anytime, same day set-up and choice from a variety of shared hosting options that offer everything from basic web site hosting to business solutions.

This will give your business the ability to have an email at a domain name. For example;
peter@yourdomain.com.au instead of peter@optusnet.com.au

Total Web Technology can also provide various promotion services to enable your site to become highly visible in the major search engines. You can simply choose the right promotion technique based on what you require. Please see promotion packages for more information.
You will find all of our hosting services feature packed and very competitive.
Features
Easy to use control panel

Portable—Completely configurable

Advanced resource management

3 great plans to choose from

Search engine submission options

Advanced Promotion

Option - 36,000+

Visitors to your site

30 day Moneyback

Guarantee

Webalizer, AWstats (Statistics)

Option for Urchin stats

Email Manager

Free Email Forwards

Email Auto Responders

Mailing Lists

Web-based Email

"Catch All" Email

Web-based File Manager

Password Protect Folders

Frontpage Extensions

Pre-Installed CGI Scripts

Reliable 99.998% Uptime

Linux OS Platform

MySQL Database

CGI Bin Access

Free Aliases

Perl

FTP Sub Account

Virtual FTP Server

Anonymous FTP Server

Crontabs/Cronjobs

MX Record Changes

OsCommerce

Sub Domains

CGI Resource

SSI

PHP Module

Directory Index

Transfer, Referrer &

Error Logs
All packages come with a control panel to administer you above features. An example screenshot is illustrated below.
A full demo can be found at www.adelaideit.com/cpanel
Username : demo
Password : demo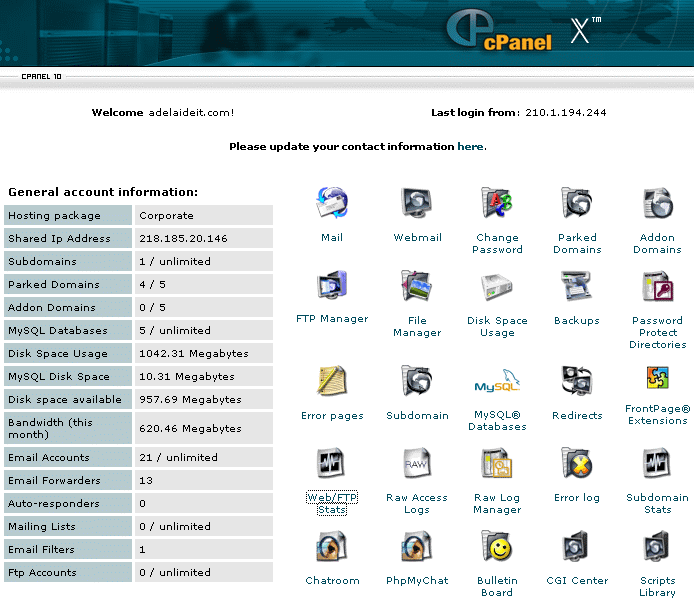 STATISTICS
All our hosting packages come with statistics packages. These are essential marketing tools for your business as the give you the tools to be able to generate more business. The common feature of our statistics packages are:
Track search engine keywords entered by the end-user to find your site.

Detailed information to the number of visitors to your site (This includes both unique visitors and hit rates)

Detail about any external sites the may have linked to your site

Percentage difference between directly typing in your address and links from other sites

Page ranking

Timed visits (How long people generally stay on your site)

Countries (Where your customers are from)
AWSTATS (Free)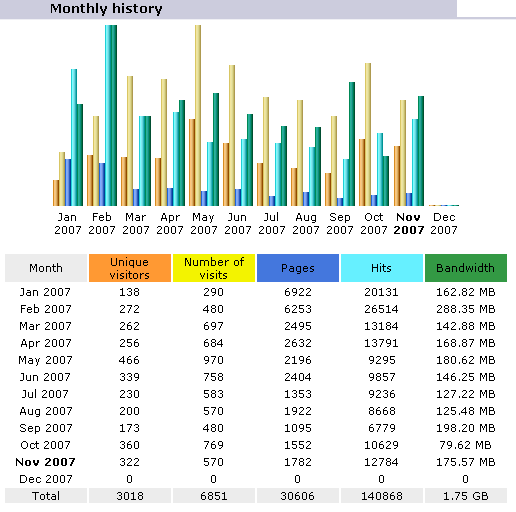 If you would like additional information on our hosting packages or have a particular application that you require advice on, please do not hesitate to contact us.